Does Spousal Support End If The Recipient Remarries?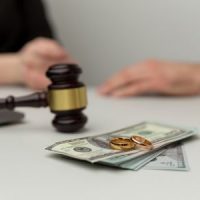 Spousal support, also known as spousal maintenance or more commonly, alimony, is not always awarded during divorce in Long Island. Spousal support is intended to financially support a lower-earning spouse during and/or after a divorce. There are many factors considered when decisions about spousal support are made. Judges can also determine not only the amount of spousal support to be paid, but also the duration of the payments, as well, and when payments should end.
If your spouse has recently gotten engaged, you may wonder if spousal support will end on their wedding day. Below, our Long Island spousal support attorney explains further.
The Law on Time Limits for Spousal Support
In 2016, the law in New York changed to provide a formula for determining how long spousal support lasts. The formula outlined considers the length of the marriage and provides a corresponding time limit for spousal support. The formula is as follows:
Marriages of less than 15 years: Maintenance will last between 15 and 30 percent of the length of the marriage.
Marriages between 15 and 20 years: Support would last between 30 and 40 percent of the marriage.
Marriages that last longer than 20 years: Maintenance will last between 35 and 50 percent of the marriage.
So, what happens if the time limit on support has not expired, but your former spouse remarries? The law is quite clear on that, too.
Other Instances that Could End Spousal Support
In addition to the formula used to determine the length of spousal support, there are other instances that could warrant the termination of spousal support. In New York, if the recipient remarries, spousal support is terminated. It is presumed that the recipient will receive financial support from their new partner and so, no longer needs spousal maintenance payments.
Likewise, if the recipient of spousal support cohabitates with a romantic partner, that could also terminate maintenance payments. It is important to note that the cohabitation must be of a romantic nature. Spousal maintenance will not end if the recipient moves in with a family member or a roommate.
Lastly, if either party passes away, that will also end spousal support. For example, if the recipient passed away, maintenance payments do not become part of the estate, nor are the beneficiaries of the estate entitled to it.
Our Spousal Support Attorney in Long Island Can Help with a Modification or Termination
If you are paying maintenance and need to petition the court for a modification or termination, our Long Island spousal support attorney can help. At the Law Office of Joshua Adam Kittenplan, P.C., our seasoned attorney can help you navigate the process and handle the legal aspects of your case so you have the best chance of obtaining an outcome most favorable to you. Call us now at 631-499-0606 or contact us online to schedule a free consultation and to learn more.
Source:
nycourts.gov/courthelp/family/spousalSupport.shtml