Bad Mouthing Your Spouse Can Hurt Your Child Custody Case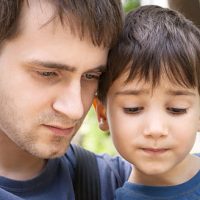 Co-parenting is often necessary after a divorce that involves children, but that does not mean that is easy. After ending a marriage, the two spouses often harbor feelings of anger and resentment towards each other. Hiding these feelings is not always easy, even when parents are around their children.
Regardless of how you feel about your spouse, it is essential that you do not express your feelings around your children. Not only is this incredibly damaging to children, but it can also hurt you during child custody hearings. Even if your divorce is final, if your former spouse thinks you are harming your child, they can petition the court for a child custody modification. Below, our Long Island child custody lawyer explains more.
Speaking Badly About Your Spouse May Be Considered Parental Alienation
It is important to remember that when you speak badly about your spouse in front of the kids, it has a profound impact on them. Children want to emulate their parents. They may not want to further upset a parent who is angry or resentful towards their former spouse. They may even want to imitate their parents. In some cases, children may not want one parent to know they have fun with the other, and they may even feel guilty about it.
The negative impacts of badmouthing your spouse are considered parental alienation by the courts. Parental alienation occurs when one person is unjustly negative towards the other parent and it results in the child rejecting that parent. Parental alienation is more common than people think during and after divorce, but it is extremely harmful behavior.
How is Parental Alienation Harmful? 
Parental alienation is extremely harmful to the child. One of the main consequences is that it hurts the relationship between the child and the parent they have alienated. In most cases, it is in the child's best interests to maintain a healthy and loving relationship with both parents.
Additionally, studies have shown that when children are alienated from one parent, it can have long-lasting consequences. Children may suffer from low self-esteem and even self-hatred. They will typically grow up lacking trust in others and may suffer from depression. Children who are alienated from a parent also often deceit substance abuse problems and other types of addictions as they try to deal with their inability to give and receive love.
The harmful effects of parental alienation on children should be enough to keep any parent from engaging in the behavior. However, alienating children from one parent can also hurt the other. The courts take parental alienation very seriously and they are highly against it. If it is found that one parent is alienating their child from the other party, they may award the non-alienating parent more time with the child. In severe cases, they may even award them sole custody.
Our Child Custody Lawyer in Long Island Can Protect Your Rights 
If you believe your spouse or ex is trying to alienate your child from you, our Long Island child custody lawyer can help. At the Law Office of Joshua Adam Kittenplan, P.C., our seasoned attorney can advise you of your rights and will work hard to make sure they are always protected. Call or text us today at 631-499-0606 or contact us online to schedule a free review of your case.
Source:
nysenate.gov/legislation/laws/DOM/240