Why Choose Mediation For Your Long Island Divorce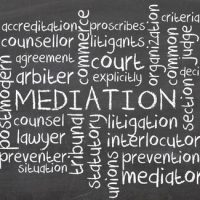 Many people are under the mistaken belief that to get a divorce, they must go to court and litigate the different issues of the case. However, there are alternatives and some of them involve a more confidential way to settle your divorce. One type of alternative dispute resolution that is becoming more popular today is mediation. During mediation, you and your spouse, as well as your respective attorneys, will meet with an objective third party mediator.
Mediation is very effective and couples often find it very helpful. If you are considering divorce, below our Long Island mediation lawyer explains the many benefits this dispute resolution method involves.
Maintain Control Over Decision-Making
One of the biggest benefits of mediation is that you can maintain control over the decision-making process during your divorce. When litigating a divorce, a family law judge will make all of the decisions. In mediation sessions, you and your spouse will enter into negotiations with the ultimate goal of reaching an agreement. For example, there may be certain assets you wish to retain after the divorce, and know that you are willing to let go of others. The mediator will help you articulate your goals, and communicate with the other party to reach an agreement.
Reduced Stress
Getting a divorce is stressful enough. Having additional pressures such as court fees and hearing dates will only make the process more difficult. Mediation provides for a much more relaxed approach to your divorce. A lawyer can also help you navigate the mediation process so you are entirely prepared for meetings and sessions with your mediator. You may also not even have to see your spouse during the process, as mediators can mitigate interactions with them. All of these means that mediation is far less stressful than resolving issues in court.
Save Time
Litigation can take months and sometimes, even years. If your divorce case ends in a trial, you will be subject to the schedule of the court, which could mean that the time between your hearings is long. On the other hand, mediation sessions can take just a few weeks before you reach an agreement. Not only does this mean that you can spend less time on your divorce, but it also means that you can move forward in your new life more quickly.
Save Money
Taking your divorce case to court is by far the most expensive to resolve the issues in your divorce. Much of the expense comes from the fact that you will have to pay court fees, and attorneys often charge more for going to trial than they do for assisting with mediation. Divorce is an expensive process, but mediation can help you keep those costs down.
Our Mediation Lawyer in Long Island Can Prepare You for the Process
If you are going through a divorce, our Long Island mediation lawyer will make sure you are properly prepared so you have the best chance of a positive outcome. Call us at 631-499-0606 or contact us online to schedule a consultation and to learn more.
Source:
nysba.org/NYSBA/Practice%20Resources/Substantive%20Reports/PDF/10-31-02UMAFINALDISCLAIM.pdf