What Is Nesting And Does It Work?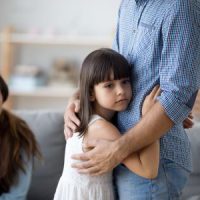 Nesting is a child custody arrangement in which the children stay in the family home while the divorced parents rotate between the home and another residence. The arrangement can provide a more stable environment for the children, as they are not shuttled between the homes of their parents. Nesting is not appropriate for all families and it does not always work. Below, our Long Island child custody lawyer explains when nesting can work.
The Parents Can Communicate Respectfully and Effectively 
Parents should always try to communicate respectfully and effectively post-divorce, but it is critical that they are able to when nesting. By sharing housing, parents can show the children that they can co-parent in a peaceful, civil, and perhaps even amicable manner. All of this starts with respectful communication.
There are Multiple Children in the Home 
It often makes more sense to keep multiple children in the family home rather than regularly shuttling them all between two houses. It can also provide consistency and structure for not only the children, but also the parents. Additionally, nesting can allow parents to find another residence that does not need to be able to accommodate multiple children.
One Parent will Move to a New Area Post-Divorce 
It is not uncommon for people to move to a new area after divorce. They may do this for work or simply to get a new start. Nesting can make this easier because the parent will go to the child instead of the child going to the parent. When a parent moves to a new area after divorce, nesting can also allow children to attend the same school and take part in the same activities they are involved in.
The Parents Do Not Want to Sell the Family Home 
People do not always want to sell the family home immediately following a divorce. This may be due to the sentimental value of the home, or the parents may just want to wait until the market improves before they sell. Nesting can take some of the pressure off and give parents more time to make important decisions. It is important to note that nesting usually requires three homes though, so parents must decide if it is possible financially. Nesting is not usually a permanent solution and only lasts for a certain period of time, which is also beneficial when parents do not want to sell the home right away.
Our Child Custody Lawyer in Long Island Can Provide Creative Solutions 
Child custody arrangements often require creative solutions unique to a specific family's needs. At the Law Office of Joshua Adam Kittenplan, P.C., our Long Island child custody lawyer can outline the options available for your family and provide sound advice so you can make the best informed decisions for you and your children. Call or text us now at 631-499-0606 or chat with us online to schedule a free review of your case with our skilled attorney and to learn more about how we can help.
Source:
nysenate.gov/legislation/laws/DOM/240