How Long Does A Divorce Take In Commack?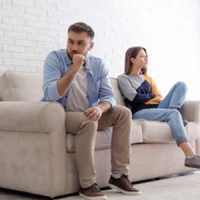 Ending your marriage is bad enough. The last thing you want is for your divorce case to drag on forever. No one can determine how long any one divorce case will take, but there are some guidelines you can follow to determine how long your case will take. Several factors will determine how long a single divorce case will take and while couples can control some of these, that is not always the case. Below, our Commack family lawyer explains how long a divorce takes on average, and the factors that can influence the length of a case.
How Long is the Average Divorce Case in Commack?
The length of any divorce case will largely depend on the number of contested issues that are involved. An uncontested divorce is one in which the couple agrees to all the different terms of the case. These include the division of property, child custody, and child support. Uncontested divorce cases usually take approximately three months to settle.
A contested divorce, on the other hand, is one in which the couple cannot agree to all the terms of the case. By their very nature, contested divorce cases take longer because the couple must work to resolve their disputes. When couples cannot negotiate an agreement on their own, they will have to enter litigation. Litigation that ends with a divorce trial, will take the longest. Contested divorces usually take approximately nine months, although this can be much longer depending on how many issues the case involves.
Factors that Impact the Length of a Divorce Case
Couples cannot always control how long their divorce will take, but there are some factors that will impact the length of a case. The main factors that can impact the length of a divorce are as follows:
When children are involved: Of course, all parents want what is best for their children but when a couple is going through a divorce, they cannot always agree on what that is. When children are involved in a divorce, it will almost always take longer.
When complex assets are involved: Even when a couple can agree on how to divide complex assets, such as a business or retirement accounts, they often take longer to divide. Businesses must be properly valued, and it is not always easy to determine what portion of assets such as pensions are marital and separate.
The schedule of the court: If your divorce enters litigation and you have to go to court, the case will take much longer. Today, the courts in New York are still dealing with an enormous backlog from the pandemic, meaning couples have to wait longer until the court's schedule has an opening.
Our Divorce Lawyer in Commack Will Protect Your Legal Rights
If you are considering getting a divorce, our Commack divorce lawyer at the Law Office of Joshua Adam Kittenplan, P.C., can help your case proceed as quickly as possible while still making sure your rights are upheld. Call us now at 631-499-0606 or contact us online to schedule a free consultation.
Sources:
law.justia.com/codes/new-york/2018/dom/article-10/170/
law.com/newyorklawjournal/2022/07/21/new-yorks-pending-court-caseload-has-increased-15-from-pre-pandemic-numbers/?slreturn=20220723100929