Reasons People Divorce After 20 Or More Years Of Marriage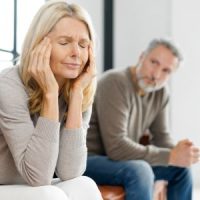 It is natural to assume that when a couple has been married for 20 years or more, their marriage will last forever. After all, at this point each party knows the other very well, and the two people have likely fallen into a routine that works for both of them. Unfortunately, no marriage is completely immune from the possibility of divorce, and this includes when a couple has been married for decades. Below, our Long Island divorce lawyer outlines four reasons a couple may divorce after 20 years or more.
Unresolved Issues
 There are a number of issues that come up in a marriage. Sometimes, couples may try to overcome these issues, or they may even try to just sweep them under the rug. Years later, though, those same issues may cause one or both spouses to become resentful of each other. For example, if one partner had an affair early on in the marriage, the faithful spouse may try to overcome their hurt feelings. Years later, they may still find it impossible to do so and so, decide to end the marriage.
Significant Change in Circumstances 
Over many years, the life circumstances of the couple may change. One spouse may find that their interests, goals, or values have changed and they now conflict with their partner's. Or, one spouse may feel that the only thing they had in common with their partner was the children they raised together. Once the kids have moved out, it can leave one or both people feeling lonely and as though they have no one to talk to. This can also result in a marriage ending.
Failing to Nurture the Relationship 
Just like any other relationship, marriages must be nurtured and maintained over the years. People sometimes start to take their spouse for granted over the years and they neglect to give their marriage the attention it needs. When marriages are ignored for a number of years, it can lead to divorce.
Failing to Communicate Effectively 
Communication is essential in any relationship, and this remains true when a couple has been married for many decades. When issues arise, couples still need to talk about them to each other and make sure they are moving in the same direction. Over time, couples may stop communicating with each other as effectively as they once did and that can lead to a breakdown in the marriage.
Call Our Divorce Lawyer in Long Island if You are Thinking About Ending Your Marriage 
The sad fact is that divorces can and do happen, even after a couple has been married to each other for decades. If you are thinking about ending your marriage, our Long Island divorce lawyer can help you through the complex issues these cases present and help ensure you receive the full and fair settlement you deserve. Call or text us today at 631-499-0606 or chat with us online to schedule a free review of your case with our knowledgeable attorney.
Source:
law.justia.com/codes/new-york/2018/dom/article-10/170/