Served With Divorce Papers? Here Is What To Do Next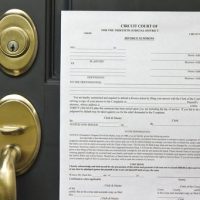 Even if you know that your marriage is in trouble and divorce is an option, being served with the official papers is always upsetting. It is natural at this time to feel anger, confusion, and even grief. This is an important time, though, to keep your emotions in check so that you can proceed in a way that does not hurt your case in the future. Below, our Suffolk County divorce lawyer outlines the three most important steps to take after receiving the papers.
Thoroughly Review the Divorce Papers 
Divorce papers are legal documents and so, it is critical that you have a full understanding of what is included in them. The divorce papers will include a number of important details and it is critical that you know what these are. Some of the most important things to take note of are as follows:
The reason your spouse gave for pursuing a divorce and whether they filed on fault or no-fault grounds,
The deadline for your response, which is important regardless of the grounds listed,
The details of the summons and other documents that outline whether you should appear in court
A Suffolk County divorce lawyer can review the divorce papers with you and advise you of the most important provisions that you should be aware of.
Understand Any Temporary Orders Included 
When a person files for divorce, the Court may issue a number of temporary orders. These orders can pertain to important terms such as child custody and visitation, child and spousal support obligations, arrangements for shared residences, and liabilities for bill payments. If the paperwork does include temporary orders, it is important to know that these may change during the divorce process, or a judge may make them permanent.
Regardless of what is about to happen in the future, you must comply with any temporary order included in the divorce papers. If you do not, you may face serious consequences that could hurt you now, and in the future.
Decide on the Type of Divorce You Want 
There is more than one way to get a divorce and litigation, or going to trial, may not be necessary in your case. Mediation, negotiation, and collaborative law are all good options for those who want to get a peaceful divorce. The type of divorce you get may not be up to you. For example, you may be interested in mediation but your spouse is acting unreasonably and is insistent on taking the matter to court. While there is little you can do about this, knowing your own goals and preferences beforehand can greatly help you prepare.
Call Our Divorce Lawyer in Suffolk County After Being Served with Papers 
If you have been served with papers, our Suffolk County divorce lawyer at the Law Office of Joshua Adam Kittenplan, P.C. can review them with you and make sure you understand your rights and legal obligations. Call or text us today at 631-499-0606 or connect with us online to schedule a free consultation and to learn how we can help with your case.
Source:
law.justia.com/codes/new-york/2018/dom/article-10/170/