What Are The Differences Between Prenups And Postnups?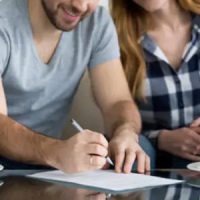 People rarely want to think about divorce, either before they get married or after they have already exchanged vows. Still, with the high divorce rate today in New York, and throughout the entire country, it is an important consideration for any couple. Divorce is a difficult process for anyone, and the thought of losing valuable property at the same time as losing your spouse only makes it more difficult.
Prenuptial and postnuptial agreements are two options that can allow you to protect the assets more valuable to you, but there are differences between these two. Below, our Long Island prenuptial and postnuptial agreements lawyer explains what these are.
What is a Prenuptial Agreement?
A prenuptial agreement is a contract the couple signs before they even get married. The couple must take their assets, which are all considered separate at this point, and determine how they will be divided in the event of a divorce. Some people think that drafting a prenuptial agreement before the marriage kills the romance, but that is not true. In fact, drafting such an agreement can help couples be more honest and forthcoming about their finances, which can help the relationship.
There are many requirements placed on prenups in order for them to be enforceable. One of these is that prenuptial agreements must be signed willingly by both parties and neither can be placed under duress at the time.
What is a Postnuptial Agreement?
Postnuptial agreements are very similar to prenups, but the key difference is that they are signed once the marriage has already taken place. Postnuptial agreements must also consider marital assets instead of just separate, as prenups do. For example, if one spouse started a business during the marriage, they may want to draft a postnuptial agreement to protect it. Another difference is that a postnuptial agreement can change a prenuptial agreement when the former was already in place.
Is a Prenup or Postnup Better?
Divorce is very difficult for anyone going through it and so, it is important to have either a prenup or postnup agreement in place. Due to the fact that prenuptial agreements outline one's separate property, drafting these documents is a little more straightforward than creating a postnuptial agreement. Still, if you have already gotten married and do not have a prenup, or your agreement no longer accurately reflects your situation, it is important to obtain a postnuptial agreement. In either case, having any agreement in place is better than having none at all.
Call Our Prenuptial and Postnuptial Agreements Lawyer in Long Island Today
If you are getting married, or you already are and have not formally protected your property, call our Long Island prenuptial and postnuptial agreements lawyer today. At the Law Office of Joshua Adam Kittenplan, P.C., our experienced attorney can draft an agreement that is fair and protects your rights. Call us now at 631-499-0606 or contact us online to schedule a free consultation and to learn more.
Sources:
law.justia.com/codes/new-york/2018/dom/article-10/170/
nycbar.org/get-legal-help/article/family-law/marital-agreements/prenuptial-agreements/