What Factors Invalidate a Prenuptial Agreement?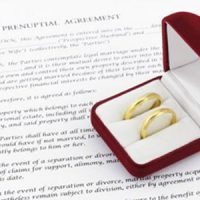 Prenuptial agreements are becoming more common today. Modern couples now realize that these contracts are not unromantic, and that they are also not reserved for only the wealthy. A prenuptial agreement can make the process easier if the marriage is ever dissolved through divorce. However, simply having an agreement in place is not enough. These contracts must be executed properly, which includes not having any grounds for challenges from either party. Below, our Suffolk County prenuptial agreement lawyer outlines what those grounds are, and how to ensure your contract is enforceable.
Fraud 
When entering into a prenuptial agreement, both parties must provide full disclosure regarding their assets, debts, and income streams. If either party hides assets or otherwise does not fully disclose all information pertaining to their financial situation, that may be considered fraud. Fraud is taken very seriously by the courts and if they believe either party engaged in it, they will likely void the agreement.
Duress 
Duress occurs when either party takes action to make the other side feel pressured or fearful. Prenuptial agreements that are signed under duress are not valid under New York law. For example, if one person asks the other to sign a contract days before the wedding and threatens that they will not go through with it otherwise, that may be duress. It is for this reason attorneys often recommend drafting and signing an agreement months before the wedding.
Ambiguous language can also be considered duress. For instance, if the language used was very vague, it could be misinterpreted or misunderstood by one party. The language in prenuptial agreements should also be very clear and specific.
Improper Execution 
Prenuptial agreements must be executed properly in order for a court to uphold the terms. Prenups must be in writing and both parties must sign them in the presence of a notary public. If there are clear errors within a prenup, the court will likely throw it out, meaning it will no longer be valid.
Unconscionable
 Prenuptial agreements must be fair to both sides and should never favor one person over another. If this is not the case the court may find the contract punitive or unethical. For instance, if one person has terminated their parental rights, a court would likely find that unconscionable. Additionally, prenups cannot address child custody or child support issues, as these pertain primarily to the rights of the child and not of the parent. These factors could be enough for the courts to throw out the agreement.
A Lack of Representation by a Prenuptial Agreement Lawyer in Suffolk County 
Like many legal matters, you are not required to work with a Suffolk County prenuptial agreement lawyer when drafting your contract. However, working with a lawyer will ensure the agreement is valid and enforceable. At the Law Offices of Joshua Adam Kittenplan, P.C., our seasoned attorney can make sure your agreement is executed properly and that the terms within it are fair so your future is protected. Call or text us now at 631-499-0606 or chat with us online to schedule a free consultation and to learn more about how we can help.
Source:
nycbar.org/get-legal-help/article/family-law/marital-agreements/prenuptial-agreements/