What To Do, And What Not To Do, When Preparing For Divorce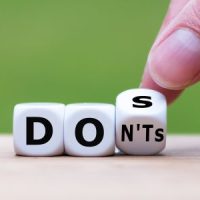 Making the decision to end your marriage is never easy. Once you have made the difficult decision, you likely want the proceedings to be over as quickly as possible. However, the divorce process is one that you should not rush. There are many steps to take when preparing for divorce, and they will all help protect your case, and your future. Below, our Long Island divorce lawyer explains the most important steps to take before you file papers with the court.
Collect Financial Documents
To get a better understanding of where you stand financially, you should collect any documentation pertaining to your joint and individual financial accounts and review them thoroughly. Your divorce lawyer should also review these so they can explain how your debts and assets may be divided during the divorce process. Any assets you own jointly with your spouse are certainly subject to division, but dividing other property is not always as straightforward. Also create a list of any assets you owned separately before getting married.
Make a New Budget
Creating a list of your separate and marital assets can also help you determine what your finances will look like once the divorce is finalized. Having an idea of what your finances will be after the divorce can help you create a new budget. If necessary, anticipate what expenses you may have to cut after the divorce, such as a streaming service or switching to streaming alone and disconnecting your cable television.
Separate Your Finances
During your marriage, you may have opened joint credit cards or bank accounts with your spouse. It is important to separate these before you file the divorce papers with the court. Open new accounts in your name only, as this can help keep your assets separate while also helping you rebuild your credit. If your credit is low or fair,  you can also open a secured credit card account to rebuild it. Eventually, you can switch to an unsecured credit card, which is harder to obtain if you do not have good credit.
Do Not Move Out of the Family Home
You may want to move away from your spouse, which means moving out of the family home, but this could actually hurt your case. Moving out prematurely may mean forfeiting your rights to property. It could also look poorly in the eyes of a judge if your children live in the marital home and you move away from them. For the time being, continue to make mortgage payments and keep track of any payments you make.
Our Divorce Lawyer in Long Island Can Help You Prepare
When getting a divorce, there are many important steps to take. At the Law Office of Joshua Adam Kittenplan, P.C., our Long Island divorce lawyer can advise you of what those are and help you through them so you have the best chance of a positive outcome. Call us now at 631-499-0606 or contact us online to schedule a free consultation.
Source:
law.justia.com/codes/new-york/2018/dom/article-10/170/