Why Are Gray Divorces So Common?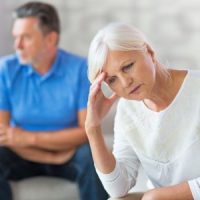 According to the United States Census Bureau, adults aged 55 to 64 have the highest rate of divorces among married couples. Any divorce that occurs between people over the age of 50 are considered gray divorces, which are divorces that happen later in life. Many people wrongly assume that when older couples are married, it will last forever. Sadly, that is not always the case. Below, our Long Island divorce lawyer explains why gray divorces are so common.
Changing Social Cultures
Even just 50 years ago, divorce was viewed as something very negative. The idea of divorce was considered somewhat taboo, and many people did not like to even talk about the idea, let alone go through with it. Today, that is clearly no longer the case. Divorce is extremely common and it is no longer viewed as negatively as it once was. This shift in social culture has given many older individuals the confidence to go through with the divorce.
Second Marriages
The divorce rate in the United States for first marriages is high, having been hovering around 50 percent for the past several years. That number only increases for subsequent marriages. The rate of divorce in second marriages is approximately 67 percent, while 73 percent of third marriages end in divorce. Many older people are in second marriages and so, the very nature of this arrangement is more likely to end in divorce.
A Focus on Personal Happiness
Traditionally, many people have chosen to stay in a marriage, even though they knew they were unhappy. Women in particular could not envision themselves finding contentment and fulfillment outside of their marriage or family based upon traditional gender roles. Today, there has been a greater focus on mental health and the importance of being happy. Women over the age of 50 today are also more likely to already have careers and know the fulfillment tat they can find outside of the home. As such, people of both genders are more likely to put their happiness first than stay in an unhappy marriage.
Empty Nest Syndrome
When a couple has children together, the kids take up a great deal of their time. Parents may become distracted raising the children, making sure they get the best education, and more. When the children are grown and leave the house, some couples find that they no longer have anything in common or that they have grown distant from each other. Some people also no longer enjoy the things they once did while their children were still at home, which can cause tension in a relationship and lead to divorce.
Our Divorce Lawyer in Long Island Can Help with Your Case
If you are 50 years old or older, our Long Island divorce lawyer at the Law Office of Joshua Adam Kittenplan, P.C., can advise on your case. We will negotiate aggressively with the other side and make sure your rights are upheld so you can obtain the full and fair settlement you are entitled to. Call us now at 631-499-0606 or contact us online to schedule a free consultation.
Sources:
americanbar.org/groups/dispute_resolution/publications/JustResolutions/just-resolutions-march-2022/how-grey-divorce-differs-from-a-typical-divorce/
psychologytoday.com/ca/blog/the-intelligent-divorce/201202/the-high-failure-rate-second-and-third-marriages
census.gov/newsroom/press-releases/2021/marriages-and-divorces.html