Annulment Vs. Divorce: What Is The Difference?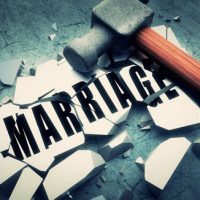 Both an annulment and divorce can end a marriage, but there are important differences between the two. Understanding these differences can help you determine which option is the right one for you. Divorces are more commonly granted than annulments, but there are times when the latter is more appropriate. Below, our Long Island divorce lawyer explains further.
Grounds for Annulment and Divorce 
One of the key differences between annulments and divorce is how they treat the marriage. An annulment essentially states that a valid marriage never existed, even though records of the marriage and annulment are kept. A divorce recognizes that a valid marriage existed at one time, but it is legally dissolved during the process. When filing either type of case you must state your grounds, or reasons, for doing so. The grounds for an annulment include:
Incest
Bigamy
Age, if one of the parties was too young and at the time did not have the mental capacity to agree to the marriage
Fraud
Impotency
New York law does allow no-fault divorces. In a no-fault divorce, the grounds are cited as irreconcilable differences. However, there are more specific grounds for divorce in the state, as well.  These are as follows:
Imprisonment, for three or more years consecutively
Abandonment, for at least one year
Cruel and inhumane treatment
Legally separated and living apart for at least one year
Adultery
The Annulment and Divorce Process
 Both divorce and annulment have a similar process. They start with filing a summons with the New York Supreme Court. When trying to obtain an annulment, a hearing will be held after which a judge will issue an order.  During the annulment and divorce process, certain issues must be resolved. If the two parties have children together, child custody and support must be determined. Spousal support issues may have to be resolved in a divorce but maintenance is often not awarded through an annulment.
While judges can deny an annulment, they will generally grant any divorce filed with the court. As such, those who want to end their marriage but do not qualify for an annulment can go through the divorce process.
Our Divorce Lawyer in Long Island Can Help You Understand Your Options 
If you are thinking about ending your marriage but are unsure of how to do it, you need sound legal advice. At the Law Office of Joshua Adam Kittenplan, our Long Island divorce lawyer can provide it while answering all of your questions so you can make the best informed decisions. Call or text us now at 631-499-0606 or chat with us online to book a free consultation.
Sources:
law.justia.com/codes/new-york/2018/dom/article-10/170/
nycbar.org/get-legal-help/article/family-law/ending-your-marriage/annulment/